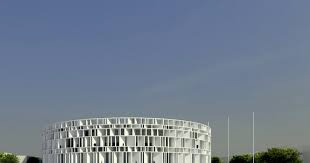 Assemblage wins Iraqi Parliament Design Award 2013
Former Brisbanite, Peter Besley was home in Australia to discuss his win - the Design for the new Iraqi Parliament building, shared with his partner Hanna Corlett for their London studio 'Assemblage'. He spoke at the University of Queensland and the State Library. In the midst of political unrest and in an atmosphere where every change borders on chaos, Iraq highlighted its vision for its new $I.6 billion Parliament building by choosing a unique design by Assemblage. It comprises a series of simple, bright-white geometric forms within a circular enclosure of streets and courtyards, fulfilling the international competition's intent to 'design an architectural-civilization monument symbolizing and testing the history of great Iraq and its renaissance, its present and new transformations and its future and distinguished role in human civilization.' Not an easy task in itself to address the brief, never mind to produce something quite so elegant in its rendition. The addendum that the structure should possess 'solemnity, sobriety and dignity' has been satisfied by its modern starkness and porosity. Over 130 practices entered the competition with 32 short-listed. "We wanted to take an urban approach rather than propose a single megastructure," says the Assemblage director Hannah Corlett. The building will be multi-functional, housing government departments and offices as well as medical centres and libraries. The project includes a large complex of buildings in addition to the parliamentary chambers, and a masterplan for the adjacent part of the city. Three main buildings emerge out of the open space, with the central rotunda, a circular building referencing the circular city of old Baghdad. Peter Besley describes this configuration as "a geometry of agreement ... The first drawing we did, on the plane back from the briefing, was of a person looking out to the landscape of Iraq, in one direction, and down into the chamber on the other ... It's crucial we capture this feeling of accessibility in a context where the democratic process is so new."
In an interview with Dezeen, Besley commented: "The industry is all too familiar with the failure of the fashionable icon building which is supposed to bring fame to a city and instead brings a cost and functional nightmare, and a rapidly dating aesthetic.' The design focuses on urban dialogue rather than architectural iconic object. The language of the structures is one of accessibility, openness, simplicity and landmark.'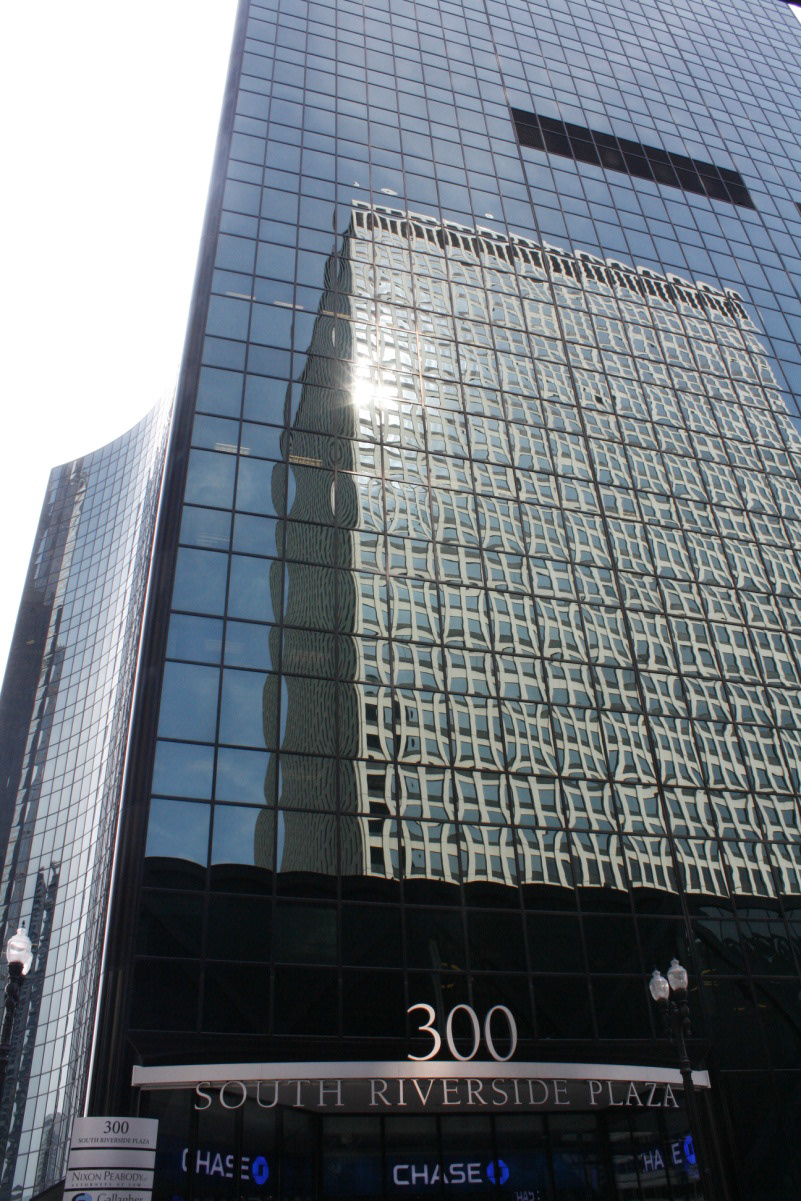 300 Riverside Plaza, Chicago.
This 23 storey building mirrors the river below with it sumptuous curves, allowing a feeling of flow and deliberate reflection not always possible as one bustles along between Chicago's busy streets and its towering skyline. The Building Owners and Managers Associations (BOMA) has named the facility as The Outstanding Building of the Year for the North Central Region of North America, among buildings larger than 1 million square feet. 300 South Riverside is a Class A office tower containing approximately 1.1 million rentable square feet. The building was designed by Skidmore, Owings & Merrill an unusual exterior design spanning an entire corner block, creating a huge mirror that showcases surrounding architecture. The interior space of the state of the art building is also a sleek and modern décor. Located on the Chicago River opposite Union Station, the building has unconstrained views from all vantage points. The building is the recipient of the 2012 BOMA TOBY award for Outstanding Building over 1 Million Square Feet and has been awarded the Energy Star since 2009. In 2012 it became LEED Gold certified by the U.S. Green Building Council.

 
In 2014, the building will add a fitness centre with showers, lockers and towel service, and a Plaza Bar for exclusive use by tenants. Judges cited the building's superior aesthetic appeal, technological innovation, tenant relations, emergency preparedness and environmental sustainability, describing the office space as 'very well run', and 'attractively updated' while commending the Means Knaus team on their professionalism. Means Knaus Partners began managing the office two years ago, and it is commendable that in such a short period the building has been named one of the preeminent buildings in all of North America. 'Our commitment to the environment as well as utilizing cutting-edge technology not only helps keep our tenants safe, but allows us to create an inviting environment for our visitors', said Harvey Camins, Managing Director for Means Knaus Partners. 'We are extremely proud of our efforts and hope to continue setting the example for building management in the future.' The participation in this award by this and other large buildings in Chicago is part of the Commercial Buildings Initiative, which is one of three components of Retrofit Chicago, a coordinated, cross-sector plan to bring energy efficiency improvements to municipal, commercial, and residential buildings throughout the city. Retrofit Chicago's Commercial Buildings Initiative is a voluntary leadership effort aimed at increasing energy efficiency in commercial buildings larger than 200,000 square feet. By reducing energy use by at least 20% within 5 years, participants highlight the City of Chicago's private sector's commitment to increasing asset value, reducing operating costs, creating jobs, and lowering greenhouse gas emissions.